Retractable PP pleated-net insect screen,easy installable to existing doors.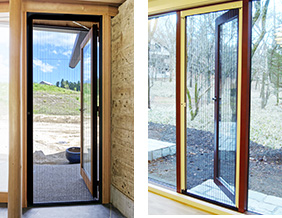 Feature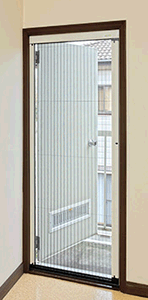 Retractable
Pleated net will be folded when retracting the unit.
You can hold the Sliding Bar door with Hold Hook.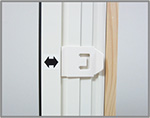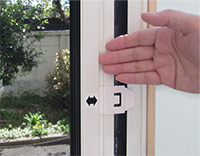 Smooth Operation
Sliding Bar and Stile Post are aligned straight for smooth operation.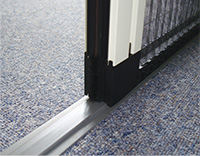 Barrier-free design
Bottom Rail height is only 5mm. It is designed barrier-free and you will have less chance of stumbling by the height of rail. Scorpiontails are caught with the rail head, preventing derailment unless with the strong wind.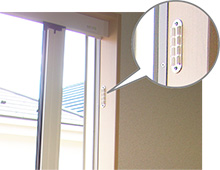 Easy Installation
Screws and double-sided tape are used to fix the unit.
Philips screwdriver is the only unit you require to complete the installation.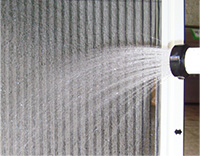 Easy maintenance
Take out the unit for washing the net with water. With our Metaco stamp pleating technology on polypropylene net, deformation of the pleats with water and net height shrinkage are less found even after years of operation.
Color Variations
Colors available

White

Bronze

Platinum Silver
※Product image for illustration purposes only. Actual product may slightly vary.
Net Colors

Black
Gray
※Maximum product height for grey net is H2,400mm.
Specification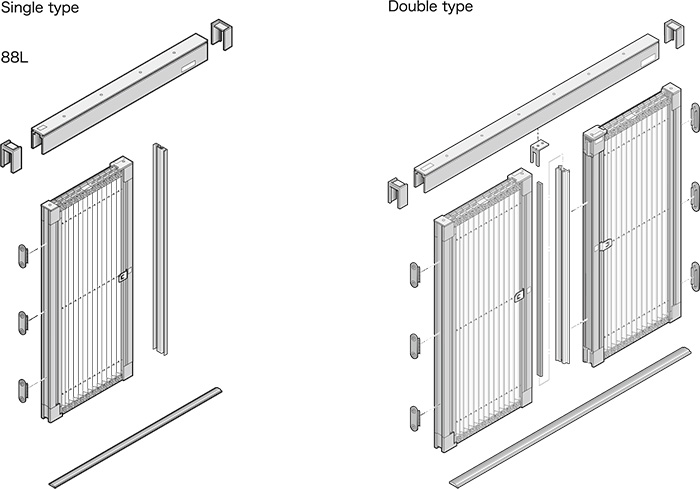 88L Wide type
Covers up to maximum size for single door 2200mm.
The Center Post reinforces the screen against strong winds and prevents Scorpion Tail from sagging.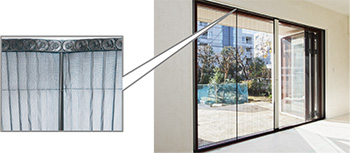 Workable sizes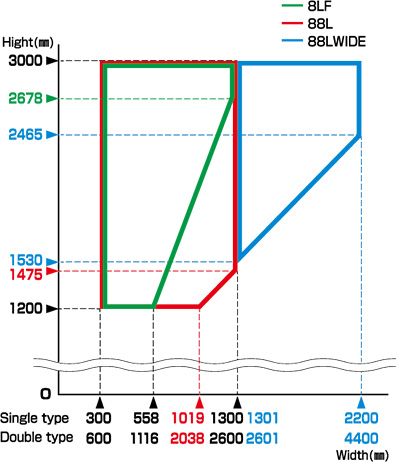 Support Parts (Optional parts. Contact us in detail)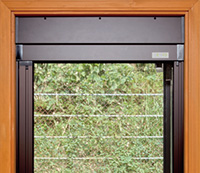 ○Cover for Door Closer
Optional item to cover the door closer and lower the height.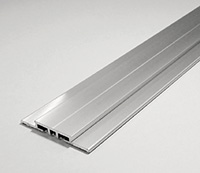 ○Aluminum Bottom Rail
We recommend you use this aluminum rail anywhere the sunlight is strong or any place double sided tape does not function properly. Use aluminum screws to fix this rail.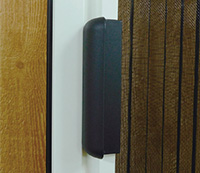 ○Door Handle
Use this optional handle for more smooth operation. Best use when you need to open and close the door frequently. Fix the handle to the Sliding Bar with double sided tape.
Method of measuring
○Installation
Install location should meet the conditions below;

1. Install location (door frame, wall, floor, etc..) is flat.
2. Install location has a width space of 40mm or more.
3. Door closer, handles and/or knobs do not interfere with the product.
4. Door opening is square, parallel and that all 4 corners are right-angled.

○Measuring
Check the install location and measure the width and height of your opening.
NOTE : Measure the opening width and height in 2 or 3 different places, as many openings are not square. 
When placing your order, use the biggest size of the measurements.
NOTE : The top margin of the product allows you to adjust +10mm, -20mm in height.
Document download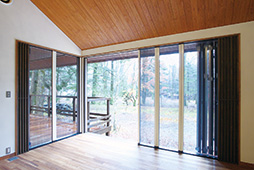 This is the multi screen specification. You can connect up to 3 screen-units on one side, and cover openings up to 7.8m in width with double retracting systems.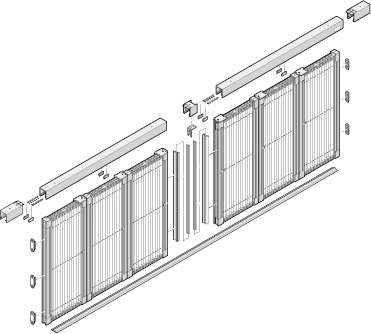 Maximum width of single screen is W1,300mm

Door Variations & Workable Sizes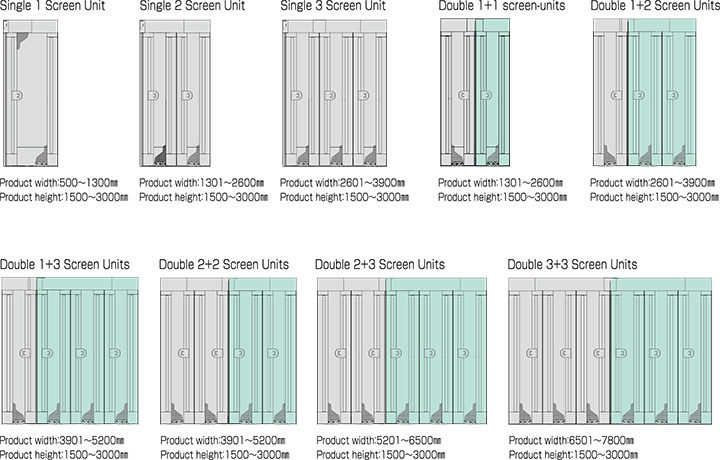 *Get
Adobe® Reader®